The Children's Neighbourhood's Scotland planning team has the role of backbone organisation. This is a separate organisation which is dedicated to coordinating the collaborators involved in the initiative. Supporting this infrastructure is essential to ensuring impact and momentum throughout the approach.
Chris Chapman – Principle Investigator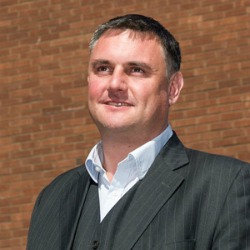 Professor Chris Chapman is a Co-director of What Works Scotland, Director of Policy Scotland, and holds the Chair of Education and Public Policy and Practice at the University of Glasgow, based at the Robert Owen Centre for Educational Change. He is also a member of the Scottish Government's International Council of Education Advisers, Senior Academic Adviser to the Scottish Attainment Challenge and a member of the UK Department for Education advisory group for the Evaluation of Early Education in England. Chris is one of the leads for Children's Neighbourhoods in Scotland.
Carol Tannahill – Co-investigator
Professor Carol Tannahill  is the Director of the Glasgow Centre for Population Health (GCPH), having been involved in establishing the organisation and leading its development since 2004. The GCPH is focused on supporting processes of change to reduce inequalities in health, through generating evidence and fresh insights into effective practice. Carol has contributed to many international, national and local public health policy and strategy developments and is one of the senior leads for Children's Neighbourhoods in Scotland.
Nick Watson – Co-investigator
Professor Nick Watson is the Chair of Disability Research at the University of Glasgow and is a co-director of What Works Scotland. He is also director of the Centre for Disability Research based in the School of Social and Political Sciences. Nick has written extensively on disability and public policy reform and has contributed to a large number of national and international advisory groups and strategic initiatives. Nick is one of the leads for Children's Neighbourhoods in Scotland.
Kevin Lowden
Kevin Lowden is a Senior Researcher in the Robert Owen Centre for Educational Change (ROC) and a member of the What Works Scotland team at the University of Glasgow. He has a background in sociology and education. He is also the Scottish Work Package leader for the Horizon 2020 YOUNG_ADULLLT project.
Kevin has over 30 years experience leading and conducting major national and international education research and evaluation projects for Government, charitable organisations and research councils. Key themes in his research include: collaborative working and enquiry to drive educational and social change, assessing the impact of innovative education programmes and professional learning and development. His recent research has included providing evaluation and support for the Schools Improvement Partnership Programme (SIPP) and national evaluations of STEM CLPL programmes. Kevin is also involved in research and development activity conducted by the Robert Owen Centre regarding promoting teachers' Collaborative Action Research (CAR) and partnership working to tackle educational inequity.
Jennifer McLean
Dr Jennifer McLean is a Public Health Programme Manager at the Glasgow Centre Population Health. Jennifer is supporting the development, delivery, co-ordination and introduction of Children's Neighbourhoods Scotland and also contributes to the research and evaluation function of the initiative. With a focus on improving health and wellbeing and tackling health inequalities, Jennifer also supports the translation and synthesis of research findings and local learning into actions for local decision-making and for policies and practice at local and national level.
Nancy Clunie
Nancy Clunie is Head Teacher of Dalmarnock Primary and has taken up the role of Local Co-ordinator for Children's Neighbourhoods. During her time in Dalmarnock she has seen the area change beyond recognition and the school double in size to over 400 children. She has succeeded in turning the primary school in to a community hub where parents and children feel they are able to come for help and support. Nancy is a trusted member of our community and we are extremely pleased to have her as part of the team.